Lockseam System
Model V-510-LS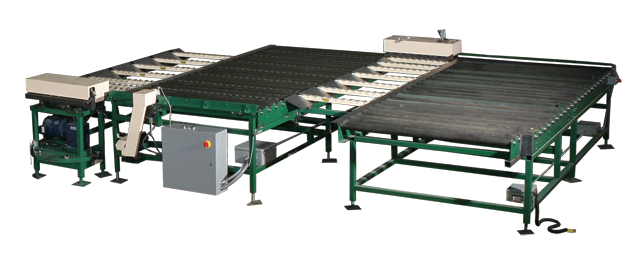 The Vicon Lockseam System is built for ease of use and reliability. The system accepts beaded, notched and sheared blanks and automatically forms the Pittsburgh or Snaplock seams.
Vicon's "Accessible Design Concept" creates a system free of overhead devices, eliminating any possibility of miss-feeds or jams. This "open top" design allows feeding of oversize blanks to the TDX, liner and brake systems.
Features & Benefits
Forms Pittsburgh and Snaplock seams automatically.
Female seams and male seams formed independently eliminating tapered edges and duct "twist".
Chain driven, heavy duty roller transfer conveyors.
Positive rollform feed system to ensure square formation.
Quick changeover on female lock through the use of a rotating rollformer frame.
Quick set selector for button punch on male edge.
Material removal bypass feature allows for blank removal of sheets to be plasma cut or used for other operations
Options
Dual head system designed to minimize footprint and maximize productivity when shop floor space is limited.
Automatic duct sealant systems.
Specifications
Heavy duty rollform heads
120" maximum and 14" minimum duct stretch-out
18 - 26 gauge mild steel capacity for Pittsburgh
20 - 26 gauge mild steel capacity for Snaplock
Lighter and heavier capacities available upon request

Coil Line Justification Calculator
Click on the calculator to the left to view how quickly the Coil Line pays for itself and starts making a profit.