Full Wrap Automatic Brake System
Model V-516B-FW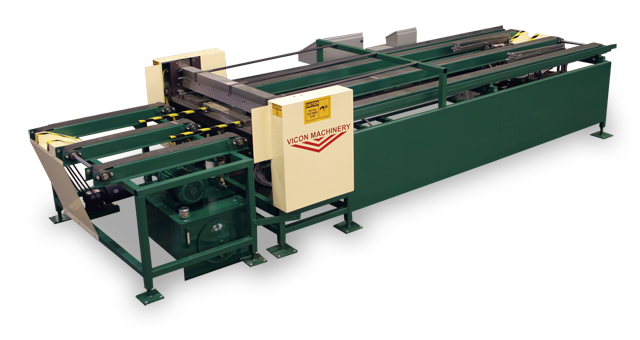 The Vicon Full Wrap Automatic Brake System is a heavy duty hydraulic bending unit. Your duct is completely formed and ready to be seamed once the duct is automatically ejected by the computer controlled gripper unit. The Vicon Brake System is smooth, fast, accurate and reliable.
Optional four-position insulation coil holder (shown to the right) is for long runs of the same liner or short runs of different liner. You benefit in both situations. Down time is greatly reduced between insulation changeovers with preloaded coil holders.
Vicon Coil Line software program for Windows®
ViSoft Software is menu-driven, user-friendly and can be set to SMACNA standards or customized to your shop standards. Continually updated and supported by Vicon's experienced team of programming engineers, ViSoft ensures enhanced productivity and superb part accuracy.
Features & Benefits
Fast accurate bends, high production with Servo-driven front gauge gripper/ejector system.
Reliable "Time Based Logic" eliminates need of adjustments to external sensors.
Multiple safety features include manual gripper clamp override, manual brake cycling, and service mode control.
No adjustments needed when running lined versus unlined duct.
Options
72" coil capacity
L-Brake Only
Specifications
Heavy duty hydraulic bending unit with 16-26 gauge mild steel capacity.
System capable of L-section, U-section or full wrap duct (min. size for full wrap is 6" x 6" unlined), maximum capacity 120" wrap perimeter.
48" and 60" duct lengths for slip & drive / raw duct and 44" and 56" duct lengths for TDX duct.
Unit automatically controlled by Vicon Control System.

Coil Line Justification Calculator
Click on the calculator to the left to view how quickly the Coil Line pays for itself and starts making a profit.