Plasma Feeder
Plasma Feeding System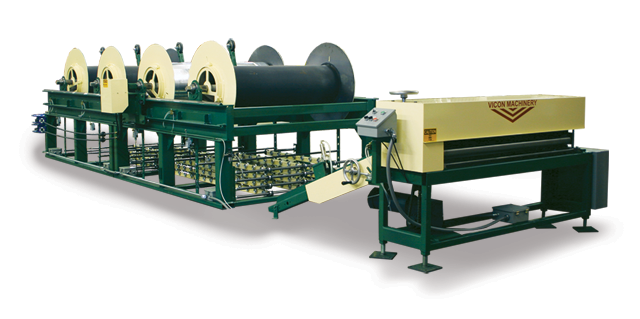 Save operating costs by reducing scrap and eliminating labor through the use of the Vicon Plasma Feeding System. Automatically uncoil, straighten, bead, and feed your various material gauges to your plasma cutting machine.
With a Vicon style drum mandrel, the Vicon Plasma Feeder is an innovative solution for the easy loading of coils. Convenient removable coil keeper end plate is light enough for just one person to attach it to the drum mandrel. The unit is designed with pneumatic "backup" wheels at each coil station for positive feed up of each coil and safe band removal on new coils.
Coils will be spooled on Vicon's exclusive Coil Drum Assemblies for the fastest coil loading available (patented). Roller track guiding system provided to guide the end of the desired coil up to the infeed guide ramp on the plasma feed unit.
Features & Benefits
Capable of handling up to 6 underfed coil cradles
16-28 gauge mild steel capacity
Coil widths from 48" to 60" standard
12,000 lbs coil capacity
Coils can be loaded in under 5 minutes
Hydraulic coil drive for smoother acceleration and deceleration of coils, utilizing auto coil reversal rewind technology
Powered infeed guide ramp for safe, hands-free coil feeding
Pneumatic backup wheels at each coil station for safe band removal and positive coil feeding
Choice of beading either up or down to suit shop standards
Will feed plasma tables other than Vicon
Options
Individual coil drives on each cradle
Overfed coil cradles available to reduce floor space
72" coil width
Specifications
Overall Length*
Underfed
Cradle System
Overfed
Cradle System
One Cradle
17' 10"
12' 4"
Two Cradles
22' 2"
16' 8"
Three Cradles
26' 6"
21'
Four Cradles
30' 10"
25' 4"
Five Cradles
35' 2"
Six Cradles
39' 6"
* Not including Plasma machine

Machine Justification Calculator
Click on the calculator to the left to view which plasma cutting machine is best suited for your needs.
Other machines you might be interested in: