Coil Strip Feed Line
Coil Strip Feed Line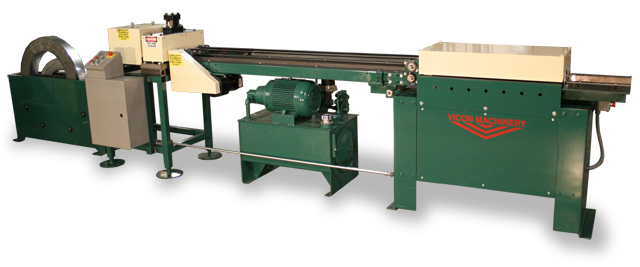 S & D

TDX Clip

1/2"
Standing "S"

1-1/8"
Standing "S"

1-5/8"
Standing "S"

2" x 2" Angle
The Vicon Coil Strip Feed Line can be configured in several ways for production of various profiles. Coil metal stock is uncoiled, straightened and cut to length either before or after the rollform machine depending on the application. The line is controlled by the Vicon PC Control to ensure accurate finished parts and can be synchronized to the Vicon office program.
The coil cradles and machine guides are configured so that the material to be processed is pre-aligned. This added feature minimizes your set-up time.
Vicon can also manufacture coil strip feed lines to produce single wall turning vanes for elbows.
Features & Benefits
Dual Drop in style Uncoiler shown. Other types of decoilers available.
Vicon PC Cut-to-Length Control
Hydraulically driven three (3) roll straightener with additional entrance and exit pinch rolls
Hydraulic Press with straight shear or contoured dies
Hole Punch available
Hydraulic Power Unit
Length tolerance of ± 1/16"
60" Dual Transfer Conveyor supports blanks during the shearing process and feeds blanks up to 60" long into the rollformer
Tooling profile will determine the required rollformer and processing speeds
Options
120" Dual Transfer System
Micro processor multi-batch controller