Elite Plasma Cutting Table
High Precision Plasma Cutting System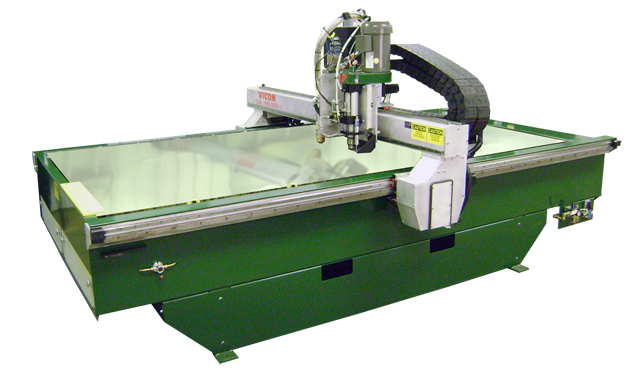 Performance Has Never Been More Precise
The Vicon Elite is an extremely rigid, accurate and versatile plasma cutting system. The dual precision worm gear drives with digital motors produce precise movement of the all aluminum tubular gantry. This, coupled with its sharp crisp motion, produces the most accurate parts that a plasma system can possibly provide. The end result is a high quality part with superb edge quality.
The gantry can accommodate multiple stations such as plasma torches, oxy torches, scribing tools and drill heads. Built in material stops, clean out doors and a machine status panel are just a few of the well thought out machine features that provide trouble free operation and optimum performance for years to come.
Machine Electronics and Motion Controller
The solid-state controls and digital drives ensure fast response time and precise motion during the cutting process while the solid-state non-contact proximity sensors protect the drive train while producing your parts at the highest rate possible. Communications from the PC controller to the digital servo drives are through CAT-5 cables to ensure reliability within the system.
Precision Cutting Torches
When choosing a precision plasma cutting system, there are many factors. Which need to be considered – part application, type and thickness of material to be cut, cut quality, system cost, and overall operating expense. In addition, there are a variety of precision systems available to the market today – ranging from manual gas consoles to automatic gas consoles, and units capable of cutting light gauge to heavy plate.
The Vicon Elite can be custom designed for cutting based on your shop criteria as mentioned above. Our highly trained Vicon sales and technical specialists will eliminate the guesswork and engineer a system utilizing the "right" torch that will enable you to achieve the goals you are looking to accomplish through plasma technology. Through sample parts and time studies, you can see the end results before making a final decision.
At Plasma Automation, we incorporate only systems manufactured by industry leaders in plasma cutting technology. System warranty and service are impeccable and expert advice is always available through developed partnerships with leading torch manufactures.
Electronic Torch Height Control and Collision Protection
To enhance the efficiency of each torch system, the Vicon Elite incorporates your choice of electronic torch height control, which maintains a precise cutting height of the torch during the piercing and cutting cycles to further enhance cut quality. A collision protection device is also added to protect your torch investment from damage in the event of collision with the material.
ViSoft Cutting Software Program for Windows
The ViSoft software is menu-driven and user-friendly. Written and supported by Plasma Automation's experienced team of in-house programming engineers, we are consistently enhancing and updating the Vicon program to continue to bring users the latest and greatest in functionality.
Features include a full array of shapes with user-defined libraries, Super Nest and common line cutting for the ultimate in material utilization, time saving DXF file importing including Auto Kerf and Auto Lead-In, and a true CAD sketch program…to name a few.
Features & Benefits
Standard 5' x 10' cutting area with options for up to 10' x 40' cutting area to accommodate various shop requirements.
High-tech, precision dual linear guiding and worm gear drives with digital motors produce precise movement of the machined "solid as a rock" gantry. This results in uncommonly precise cuts and superior round holes.
Sharp, crisp gantry motion, coupled with the rigid, heavy-duty table, dependably achieve the tightest tolerances.
High-speed dual drives enable traversing speeds in excess of 2,000 ipm while continuing to provide maximum torch cutting speeds.
State-of-the-art proximity switches and customized table stops allow for easy diagnostics, trouble free operation, and optimum performance for the life of the machine.

Machine Justification Calculator
Click on the calculator to the left to view which plasma cutting machine is best suited for your needs.
Other machines you might be interested in: